Buyers' Guide Mobility Scooters
Please Feel Free To Call Us 01582 413718
Smart Scooters Offer a wide range of scooters designed for different jobs, but why would you need a mobility scooter instead of a power chair? This section will help you understand the differences between our scooter products and the difference between a mobility scooter and a power chair.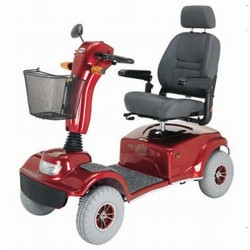 Who would use a Mobility scooter?
Mobility scooters are designed for those who can no longer walk long distances and may use walking aids for getting around indoors. They are also widely used by people who have breathing difficulties or heart conditions.
In all cases, the user should be able to safely transfer on and off the scooter with little or no help.
They should also be able to maintain their seated position without falling in any direction once seated. If you or the person who would be using the scooter is unable to maintain an up right position when seated, you may be better suited to a power chair. In all cases, Smart Tech Mobility Products would strongly advise you to contact us in order to seek further advice before purchasing any product.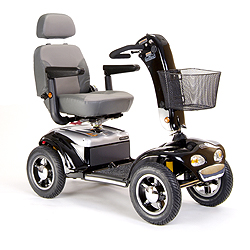 What is a Mobility Scooter?
If you have ever seen (or used) a pedal car or a go-cart, then the best way of describing a mobility scooter is to say that it is a pedal car for the less able. The good news is that you do not need to pedal any of our scooters, as they are all powered by electric motors.
You will find that they come in a choice of either three or four wheeled versions, and they come in a range of sizes, which we will cover below. All are fitted with handlebars (tiller) and are fitted with a seat, which can be turned to help you get on and off scooter. You control the mobility scooter by pushing or pulling a small lever with your finger or thumb (depending on the type of controls), and to stop you simply release your finger (or thumb).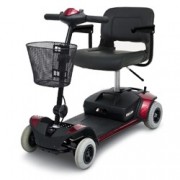 Which one is Right for you?
Mobility scooters are generally split into three sizes: Small (or travel), medium (mid sized), or large. They also fall into speed categories – 4 mph, 6 mph, and 8 mph. It is very important to understand that you need to control the speed of your scooter when you are using it on a public footpath as the maximum legal speed you may travel on a public footpath is 4 mph.
Any models that are capable of speeds over 4 mph, are classed as road legal, or Class 3 mobility scooters. These need to be registered with the DVLA and should display a valid tax disc although there is currently no charge for taxing them.
Our simple choice selector will let you choose the right one for you; we have broken it down to 3 sections, examples of which can be seen below
Choice Billing Address
×
You have no billing addresses.