Why trust Smartscooters as the best mobility furniture company?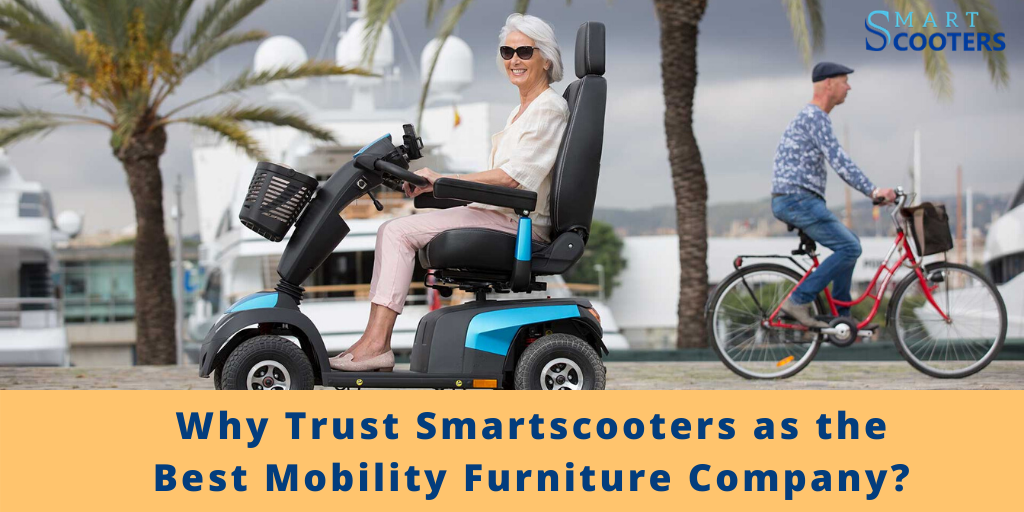 We, Smartscooters are one of the leading mobility furniture company providing our customers with high-quality wheelchairs. We manufacture and distribute many different types of wheelchairs and can offer our most popular wheelchair, the lightweight wheelchair, nationwide to more people than any other wheelchair distributors. Wheelchairs play a very important role in having health benefits. We understand the health benefits completely and provide wheelchairs in such a way that it never fails to meet your demands and expectations.
Some of the other benefits of using Smartscooters' standing wheelchairs are the following:
Independence: This is something that is usually compromised when lacking mobility. Standing wheelchairs cannot promise to give your independence back completely, but it could be of great help to implement some new positions and activities that wouldn't be possible if that standing option is not available. On the other hand, the cost of buying the cheap mobility scooters UK will get compensated, as it reduces the need for home adaptations and reduces the levels of additional care required which leads to significant money-saving. Imagine when you can independently reach the objects that are on higher shelves, it is the greatest benefit of using standing wheelchairs.
Easier and safer transfers: High tone can be of a great problem sometimes when it comes to transfers, as it becomes more difficult for the caregiver. As discussed previously, standing wheelchairs of Smartscooters could make the difference by reducing spasticity and contractures. They also promise to make transfers safer and easier. The standing wheelchairs from Smartscooters have a specific position to assist with transfers.
Social participation and engagement: When it comes to engaging in social activities, having a new height when standing can give standing wheelchair users more confidence and more enthusiasm to participate in external events. They also enjoy making eye contact with their fellow pals in their surroundings, making them feel more integrated into social situations and society.
Standing wheelchairs from the Smartscooters have many clinic benefits that are together with the benefits of seat elevation, often out-showed as a luxury. Getting funds to buy these kinds of standing wheelchairs are difficult at times, but in these cases, it is not just the clinical and social benefits of the wheelchair that needs to be taken into account, but also the cost-saving advantage of not requiring additional home adaptations and special assistance as mentioned before.
Why should you choose Smartscooters over the other mobility furniture companies?
The following are the reasons why you should choose Smartscooters over the other mobility furniture companies:
Extensive safety testing: When you buy a standing wheelchair from Smartscooters, you can experience comfortable resting for assured as it has undergone rigorous safety testing, making it suitable for the people in a variety of streams; from nursing homes to their own house. We, at Smartscooters sell light-weight standing wheelchairs nationwide which has brought popularity to our company because of its easy to use and comfortable experience. We ensure to supply standing wheelchairs that will stand the test of time as well as extensive daily usage. By doing this, it makes easy for you to fold down and store the wheelchair without any issues.
Warranty: We aim to provide our customers with our standing wheelchairs that could provide the best possible experience. Along with
competitive prices, we provide warranties too. If there is any issue with the manufacturing of the standing wheelchair, we will happily replace them or repair them at free of cost.
Personalized chairs: We are totally aware that those who use our standing wheelchairs are diverse clients. We also understand that our
customers range from those with mild mobility restrictions to those with more advanced mobility restrictions. We also offer wheelchairs that can serve more than that of normal standing chair features. If you wish to add additional features like a cup holder, extra pillows, etc, we can put them on your chair.
Thus, if you are searching for mobility scooter hire London, Smartscooters are the best choice.