Top 10 Best Mobility Scooters for 2019

Folding Mobility Scooter is the first thing which strikes in our mind when we see a senior person or a disabled person who feels challenged in mobility and solely dependent on a caretaker. Unfortunately, various factors may lead to immobility like accidents, old age, surgeries and prolonged illnesses but with the access of folding mobility scooters, there is no need to rely on walking frames and sticks anymore. Folding Mobility Scooters not only give independence to travel without help but a sense of moving with society without sitting idle and fighting boredom at home.
This is an inexpensive personal mode of transportation. It looks like a wheelchair but with greater mobility and freedom. They are motor controlled, have steering for directions and are generally three or four wheelers. These can be equipped with special tires (depending upon outdoors) and accessories like crutch or crane holders, sidearm bags for extra storage, cup holders and oxygen tank holders
They make it easy to go out for shopping in a mall nearby or to stroll in the park without fear or hesitation. Unlike simple electric wheelchair, they are tougher and can be used in rough terrains. They are light weighted if compared with an electric Wheelchair (approx. 50 % lighter) and are very friendly when it comes to assembling and dismantling. One can easily carry them in his car as it takes very less space and can put under the bed at night. They are so light that can be carried in public transport or airlines per say.
Many Companies in the UK are working extensively towards manufacturing of cost and cheap mobility scooters. They range between 400 to 5000 pounds. Some companies also provide financial support schemes for easy availability of scooters. If money is a constraint, then one can buy a second-hand scooter from reputable and listed shops. Both budget and individual requirement are important factors when going for a purchase.
With so many amazing features & benefits of folding mobility scooters, there are several important factors that needs to be considered before purchasing one especially when you are gifting it to somebody close to you.
Comfortability
Portability
Built Quality
Safety Features
Speed and Range
Battery Type
Accessories
Cost
Last but not the least is the maintenance factor which is also very important. A mobility scooter service ranges between 60 – 90 pounds. Some companies provide warranty and regular service in their package.
Following is the list of Top 10 Models with some features.
1. Afikim: Afiscooter C Scooter (3/4 Wheeler)
Key Features
Full front and rear suspensions
25 Mile drive range
Top speed – 9.3 mph
Weight capacity – 330 pound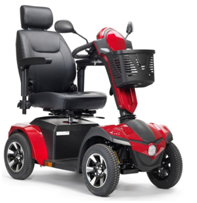 2. Afiscooter S (3/4 Wheeler)
Key Features
Advanced steering and suspension system
20 degrees climbing angle
Weight capacity – 450 Pounds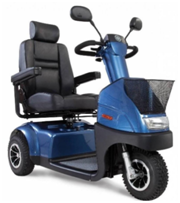 3. Drive Medical ( Panther Heavy Duty Scooter)
Key Features
Adjustable seats (upto 45 degrees)
25 Mile – Drive in Capacity
Weight capacity – 425 Pounds
Electromagnetic breaking system
Anti tip wheels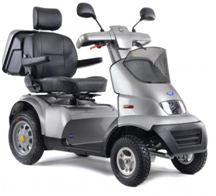 4. Drive Medical (Phoenix Heavy Duty Scooter)
Key Features
Sturdy and portable
43 Degree sharp turning radius
Light weight – 115 Pounds
Finger pull throttle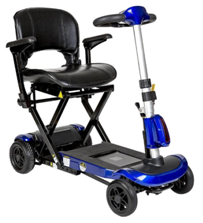 5. Drive Medical :Zoo Me Auto Flex Folding Scooter
Key Features
Automatic folding in 15 Seconds
13 miles in a single battery charge
Airline safe lithium battery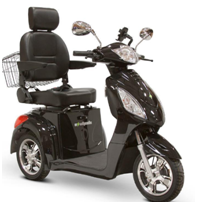 6. EV Rider : Royale 4 Electric Scooter
Key Features
32 Miles operating range
9.3mph top speed
Aluminium rims
Digital display panel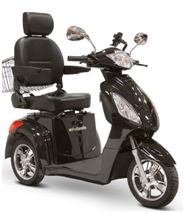 7. Drive Medical :Spitfire Scount (3/4 Wheeler)
Key Features
Extra Leg room for tall riders
Top speed – 9.25 mph
Light weight – 39 Pounds
15 miles in single charge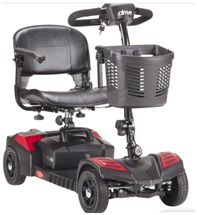 8. EV Rider : Transport plus foldable Scooter
Key Features
3 Step Folding System
Portable
Lead batteries
10-15 miles driving range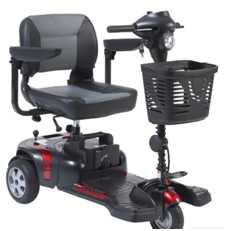 9. EWheeler :36 Scooter
Key Features
Top Speed – 18 mph
Large 16 inch wheels
45 miles driving range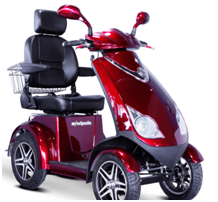 10. E Wheeler 72 Scooter
Key Features
Automatic breaking System
Large 14 &16 inch wheels
700 Watt electric motor