Newest Travel Mobility Scooters in London To Hit the Market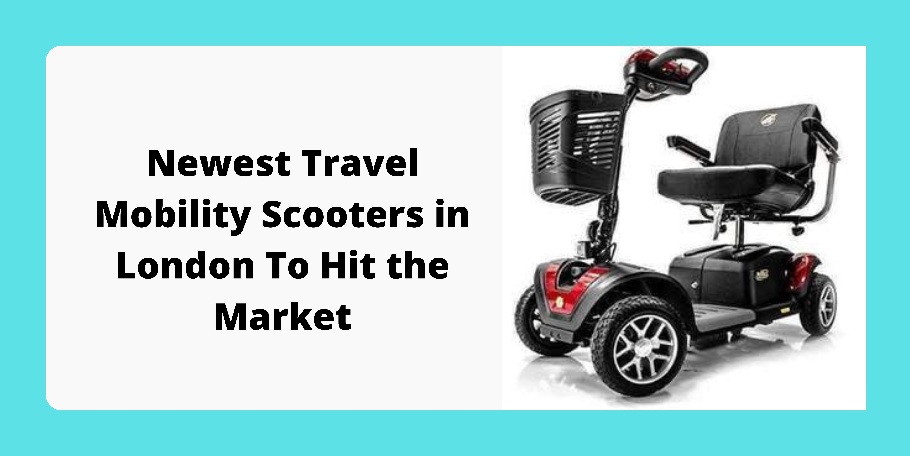 In case physical challenges have been making it difficult to get where one needs to go and do the things that you love, a power mobility scooter is an ideal solution. This article is an updated guide for 2022 to help you choose the latest and best mobility scooter in the London market. Whatever activity you want to do, whether it is travelling, shopping, exploring time with nature, or whatever it is it can be made easier and enjoyable with the help of these electric smart scooters. This scooter surely has a positive impact as it shows so many benefits. This article lists some of the best mobility scooters in 2022.
Best mobility scooters in 2022
1. Pride Ranger Mobility Scooter
The Pride Ranger Mobility Scooter has a unique design that is made to maximise the protection and safety of a person, with its multi-functionality and ease of operation. In order to maintain an active, versatile, and dynamic lifestyle mobility scooters are the best. This scooter has an LED headlight for safety with full suspensions and shock absorbents for all-day comfort, having a range of 24-mile drive with a top speed of 9.2 MPH.
Key features
Mid-size dimensions
Powerful motor
Luxurious captain seat
Modern steering
This is the perfect mobility scooter that offers both performance and style and is designed to make sure you're one of the snazziest looking people out and about. In order to follow safety precautions some scooters have to sacrifice good looks, but this one has been able to meet both safety and looks. It is built with a comfortable padded seat and backrest that can be easily removed. It folds to a compact size, excellent for transportation and storage. Additionally, it has a turning sensor that provides excellent road holding.
Key features
Height and width adjustable armrests


The maximum speed of 4mph

Advanced ElectroFold operation in only 12 seconds

Drive this supascoota sprint HD folding mobility scooter that offers a unique combination of sturdiness and portability. Accommodating larger riders with a weight and a seat whose width can be adjusted as required. You'll never be more comfortable when you are riding this mobility scooter. Now you might think it would be an awful thing to carry this, but no worries as it disassembles very quickly. This helps save time and energy along with comfort while transporting your device.
Key Features
Worm drive gearbox

Forward/reverse switch

Padded, flip back seat, removable


Front basket and headlights
This drive easy rider is one of the best high-end scooters one can find in the market as it is the ideal solution for your mobility needs. It's extremely comfortable and will get you to wherever you want to go in style. It is a versatile personal mobility vehicle and has great standard features that will keep you comfortable all day long.
Key features
Easy to use LED controls.
Twin adjustable rear view mirrors
Large accommodating footwell with anti-slip rubber mat
Length 166cm (65"0 Height 115cm (30")
5. mLite Folding Mobility Scooter
Word "Simple" is constructed negative but with the Smart Scooters you can finally enjoy the positive aspect of simplicity. With loads of character, having a sophisticated platform is what we deliver in mLite folding mobility scooter. It is designed to get you anywhere and never slows down during the process. You can easily store this device in small spaces and thus easier to take wherever you want. One might think that such a small mobility device might have durability concerns, but it is constructed of high endurance, lightweight, aluminium alloy, so the total weight is easy to manage and it is always easy to manage with a strong format to maintain all your needs.
Key Features
Easy to fold
Easily read controls
Adjustable

Here at Smart Scooters we are a mindful company that cares about each of our customers and each purchase we make. We are here to assist you with a personalised, patient, and friendly team on the market. You can find the best budget-friendly cheap mobility scooters in the UK here. If you find this ultimate guide of mobility scooter helpful, then check out some of our other latest guides.