5 tips to taking an Accessible holiday with Electric wheelchairs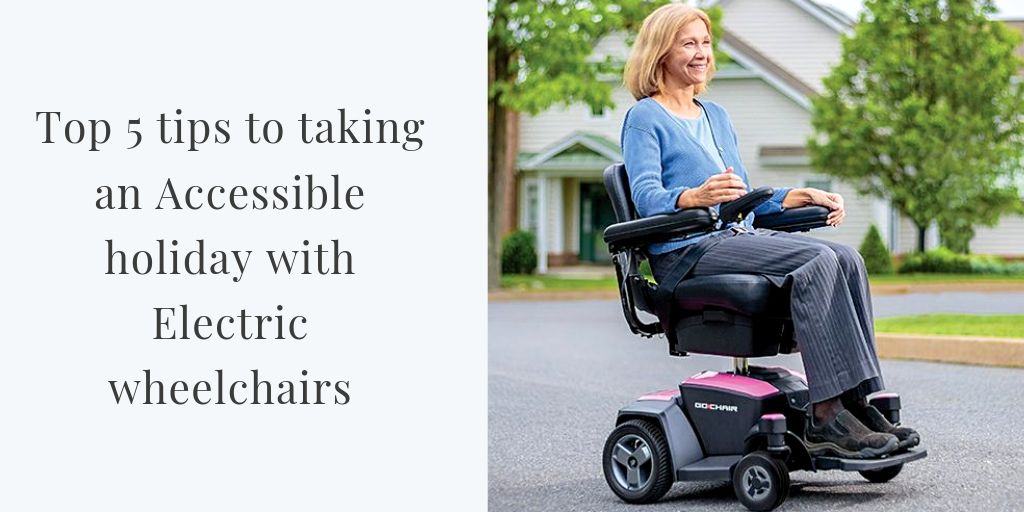 Today technological advancement is increasing with time. It has given a boost to society to develop things which will make their life longer and easier.
One classic example which is a small yet very useful product is "Mobility Scooters". Some people call it a revolutionary product for
senior members of our family and society who don't wish to be dependent on someone due to their walking disabilities.
If you are also planning to buy folding mobility scooter, you will be surprised to know that it is a similar product to the best electric wheelchair in the UK but with more power and amazing features. They made it a cakewalk to senior and disabled people to go out and enjoy. Now no more dependency on crutches or on a personal caretaker. One just needs to pull out his/her scooter to go out for shopping, morning or evening walk to parks or nearby places and if you are planning a holiday, you can also bring it with you.
A mobility scooter is a quite safe product is loaded with fantastic features. One can choose between 3 wheeler and 4 wheeler variant. They have very durable tyres which you can use on rough terrain. They are best suited for travelling purposes as it can fold swiftly and occupy very less space. They have got nice motor controlled steering, features like automatic breaks, adjustable armrest, antitheft system foldable seats, rechargeable battery, automatic folding and unfolding mechanism etc. They are self-balancing, have padded seats and provide great comfort and support while driving.
Now if you are planning a holiday with an electric wheelchair, the following are the top 5 tips for you which can help you to plan your trill well.
Advance Booking through a specialised agency
It is very important to book a flight and hotel in advance and if possible through a specialised agency which helps people with disabilities in booking their travel. These agencies know about all such facilities and support provided by airlines and hotels. They can arrange handicapped scooters at airport and hotels along with porters. If you are taking your mobility scooter, you need to inform them so they inform airlines and can book it in. Thus their suggestion can be very useful.
Connecting with Airline to know the procedure and provide support
In order to seek help from airlines, you need to reach the airport as early as possible to know the procedure of travelling with additional help. Airport authorities generally provide help in terms of mobility scooters and electric wheelchairs and supporting staff who can help you in boarding. Make sure you have all documents along with you for seamless support.
Hotel Accessibility
Make sure that you are in constant touch with your hotel so when you reach the hotel, wheelchair facility will be provided to you. If Porter is available, he can take you and your stuff in your room directly and you will be ready to enjoy your trip.
Local Guide Support
Local guide support can make a big difference in your vacation.Local guides know the places where you can find your mobility scooters or electric wheelchairs. They know the places which are safe and where you can go and enjoy to the core.If you need other facilities like medications, oxygen cylinders and nursing support, you can ask a local guide to arrange such support.
Self-reading and exploring
There is a lot of information available on the internet and in books where you can read more about places which are safe, have easy access, and where you can go with your wheelchair and enjoy your holidays or vacations.
Above are all the tips which you can go through this can help you plan your trip well organized or else you can always go for buying folding mobility scooters they are easy to carry wherever you go.